At the top of many traveler's lists is VietNam's famed Ha Long Bay. This gigantic bay is everything you picture the coast of Southeast Asia to be: turquoise waters, dramatic cliffs, vibrant green hill sides, and thousands of islands. Unfortunately, the boat tours and overnight trips around Ha Long Bay can be hundreds of dollars per person and put this must-see destination out of reach for many budget travelers.
One night, Megan and I were having a conversation at a street food restaurant in Bangkok about Ha Long Bay being so expensive, when a man sitting at a table next to us chimed in. After explaining that he had lived in Hanoi, VietNam (the major city closest to Ha Long Bay) for several years, he proceeded to tell us to visit Cat Ba Island instead of Ha Long Bay. He explained that the prices to visit Ha Long Bay were so inflated due to its international popularity, but that we could have the same experience from lesser-known Cat Ba Island for half the price! We took his advice and now hope we can inspire you to do the same.
If you look at a map, Ha Long Bay is the body of water between Cat Ba Island and the mainland of VietNam. There are thousands of islands in Ha Long Bay that have contributed to its popularity. However, Cat Ba Island is surrounded by thousands of similar islands located in Lan Ha Bay that are far less famous because they are not in Ha Long Bay. As the Vietnamese say, "same same, but different." As we came to learn, the only real difference between the two was the steep price and lack of crowds!
Getting to Cat Ba Island
Getting to Cat Ba Island is cheap but takes a bit of time and planning. We flew into Hanoi and decided to plan our route there after we arrived at our hostel. We found a local agency (do your research and compare at least 3-4 agencies in the area - they all charge different prices!) and paid $12 USD each, for a round trip bus ticket from Hanoi to Cat Ba Island.
The bus picked us up from our hostel at 8 AM and drove for 3 hours to the ferry pier for Cat Ba Island. From here, the bus boards the ferry with you so you don't even need to take your stuff. Just get off and enjoy the views from the boat (which unfortunately weren't great due to heavy fog). Once off the ferry (a quick 30 minute ride) you'll have a final one hour bus ride to Cat Ba Town where the bus dropped us off directly at the Minh Hieu Hotel (which was $7 USD per night in the off season). All in all, a slow but easy and cheap trip!
The Island
Once settled, we immediately rented a motor bike from a storefront downtown Cat Ba ($4 USD). Since we weren't booking an overnight cruise, we had time to explore the island! Our first stop was "Hospital Cave" or a cave that was used in the VietNam war as a hospital for wounded soldiers. You have to pay a guide to get in ($3 USD + tip) but we ended up learning a lot that we otherwise wouldn't have (no signage or information) so we'd highly recommend the stop if you have time to explore the island!
We then proceeded to drive along the coastal roads and ended up at the top of a mountain that overlooked Lan Ha Bay. The summit was also home to Fort Cannon, an old Vietnam war relic that housed artillery and other battle supplies throughout the war. Panoramic views with a side of history is always a plus! Fort Cannon was probably our favorite stop of the day so if you have minimal time on the island, we'd recommend a visit here.
Lan Ha Bay Cruise
Before our motorbike tour, we'd decided to book our Lan Ha Bay cruise from an agency downtown. We booked with Mr. Pineapple, of The Pineapple Hotel, who was hilarious and super helpful. Since it was the off-season, we were even able to book a tour or the very next day. If you're visiting in high season, we'd recommend book a few days in advance or before you get on the island. You can find Mr. Pineapple's hostel in downtown Cat Ba and we'd highly recommend booking with him! The boat tour included swimming, kayaking, breakfast, a delicious 5-course meal for lunch, a trip to a floating village, and a stop at Monkey Island for hiking. The price? $7.50 USD per person!
First stop was the kayak tour around Lan Ha Bay. This was probably our favorite part of the cruise because we got to get up close to all the limestone karsts and even check out a few of the hidden caves!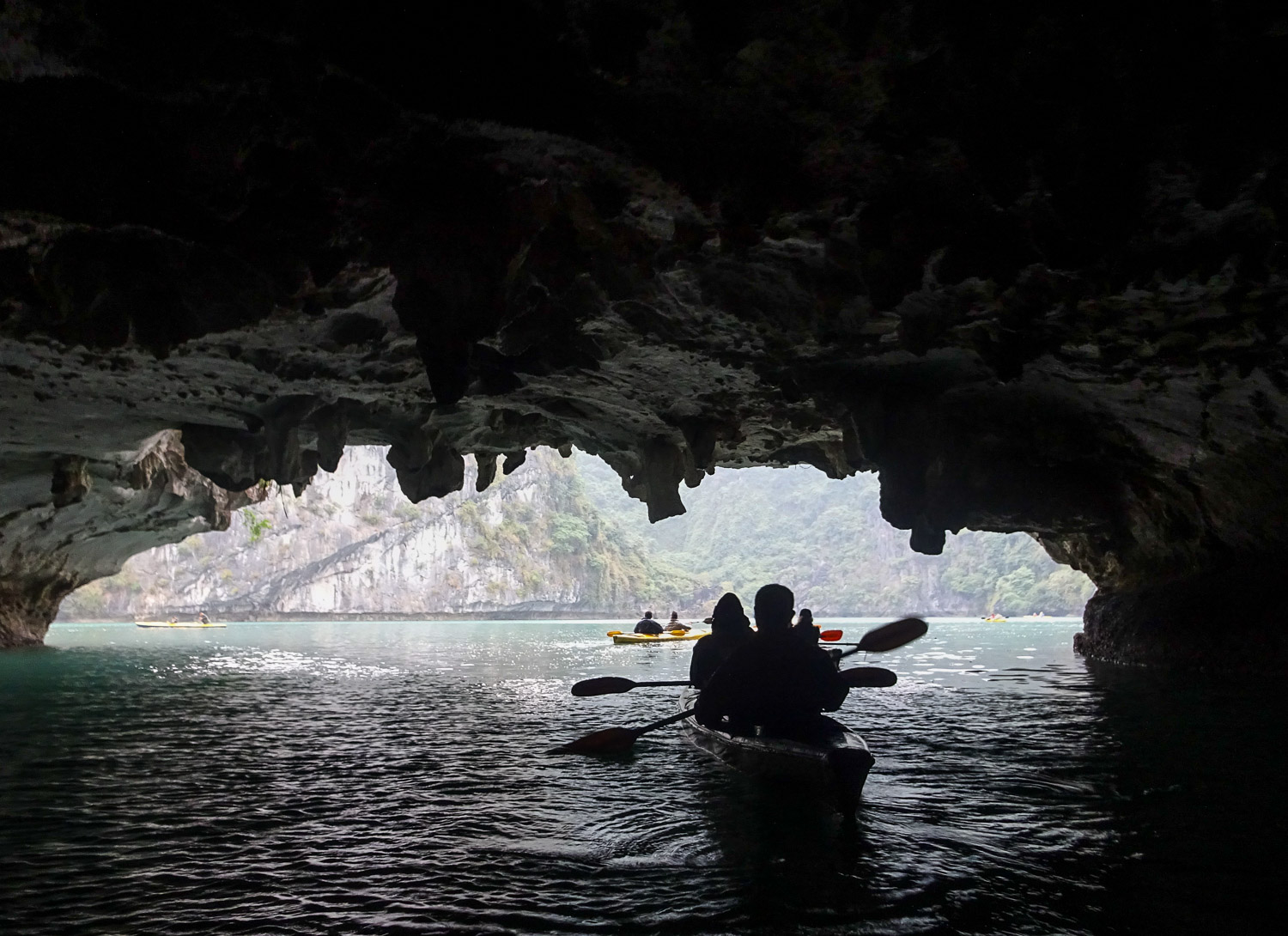 After kayaking we stopped for a swim - even in the cold temps the water was warm! I got to show off my signature flips from the top deck of the boat, so that was cool. Overall, not the best activity for an off-season cruise, but definitely a fun experience!
The boat then took us to "Monkey Island" where we climbed to the top of a peak overlooking the beach and part of the bay. As you would expect, lots of monkeys were following us around. It should also be noted that the hike is more of a rock scramble on top of sharp, loose lava rock. It was fun but definitely not the easiest. We had arrived at the same time as a few other tour boats so the hike was also crowded which added to the challenge. If you see a lot of people hiking to the viewpoint, we recommend spending some time with the monkeys and letting the crowds disperse before you make your way up!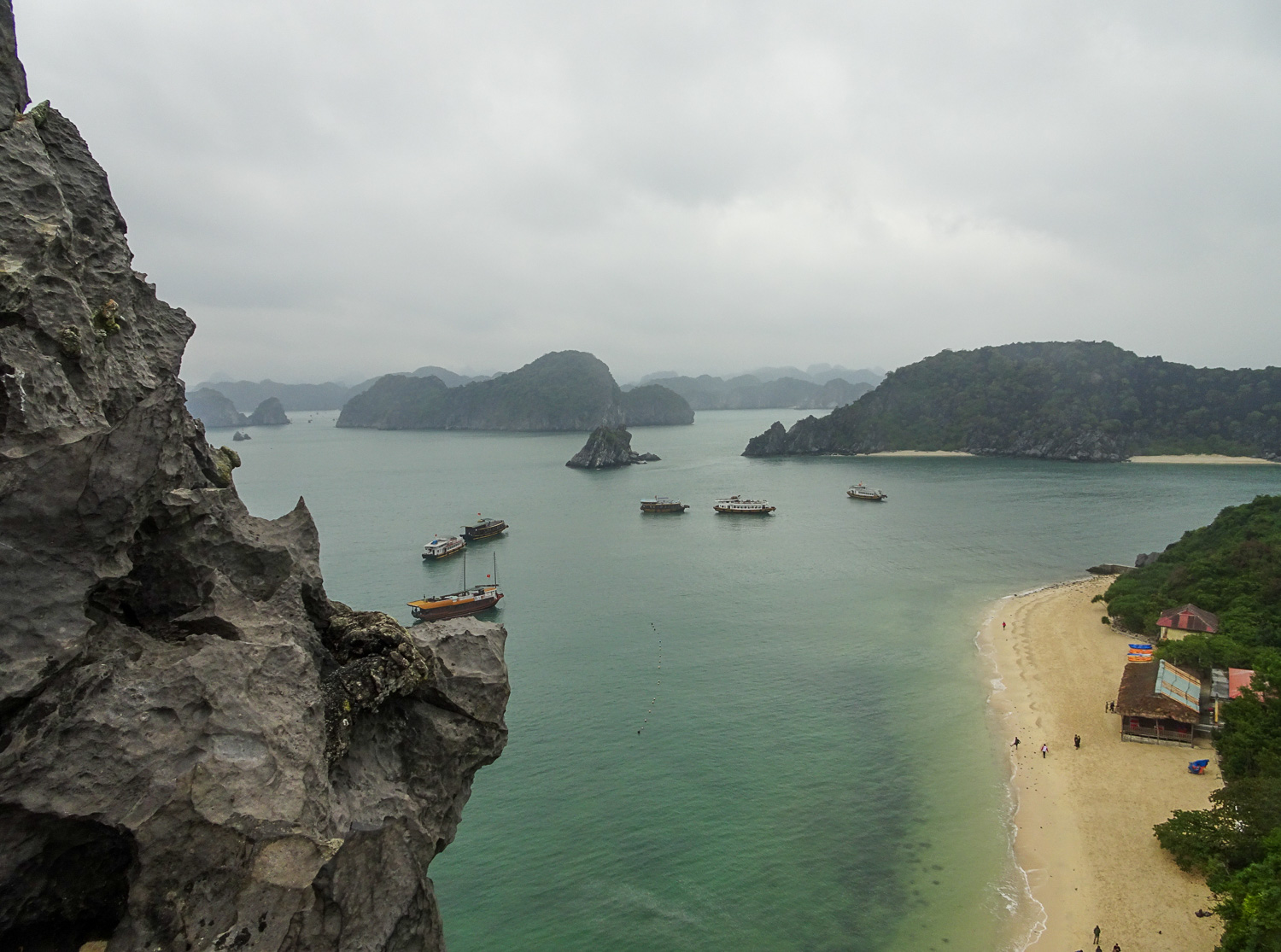 For our last stop we toured a floating fishing village that even had electricity! The kids that live here take a boat to Cat Ba island for school everydayl.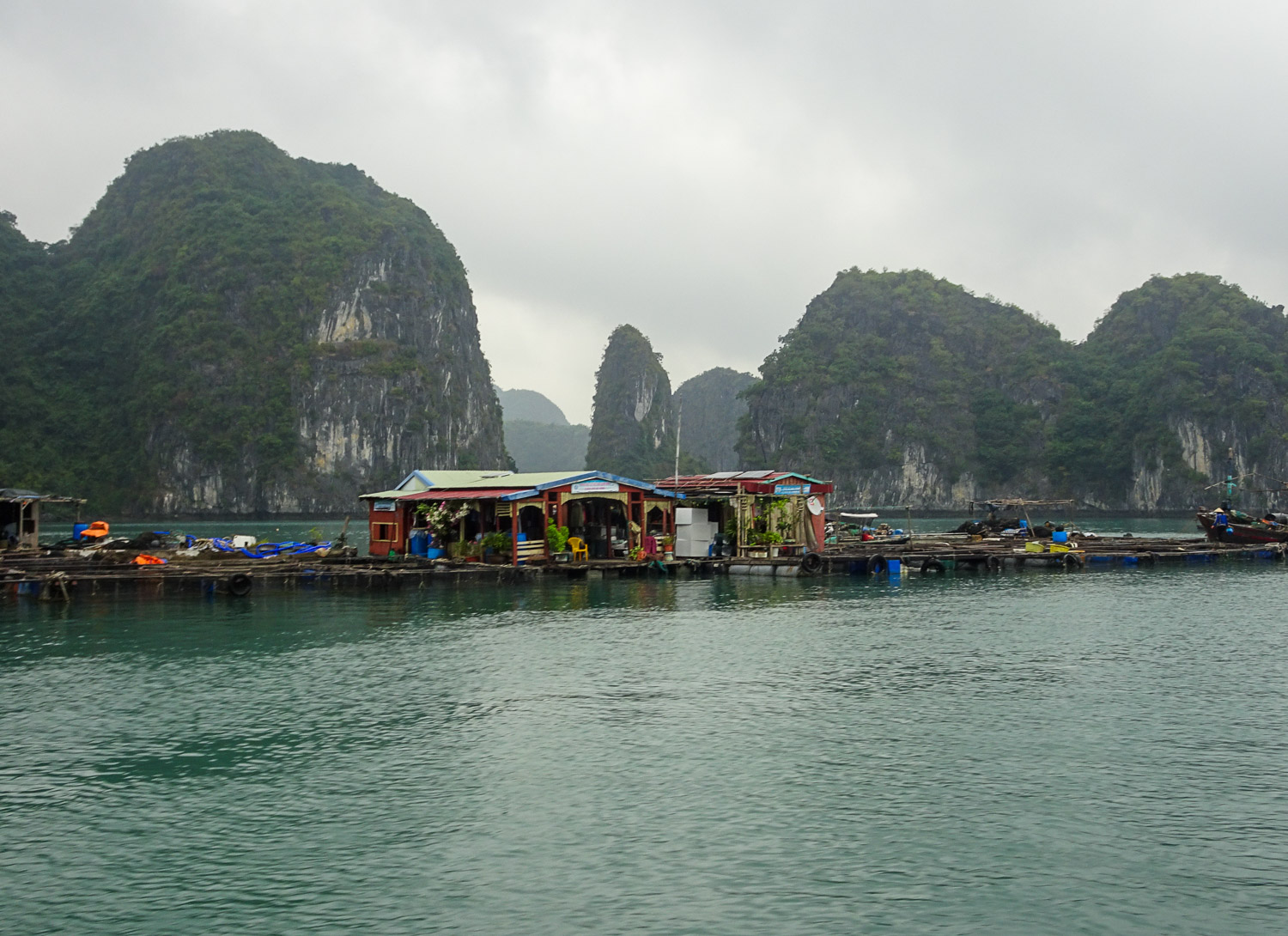 Cruising around between each stop was just as spectacular as the activities themselves! Lan Ha Bay was breathtaking even without warm sunny weather. If you do visit in off-season, the prices will be right but the weather may not be. The sacrifices we must make as budget travelers! ;)
Cat Ba Town
Luckily, if you decide to save some money and skip the overnight cruises, the town of Cat Ba has plenty to offer instead! There are a couple lively bars to hang out in at night and some great local restaurants to enjoy along the waterfront. Our top recommendation is the vegetarian restaurant Buddha Belly, but we found that you can't go too wrong with the food choices! There are a lot of family-run restaurants on the waterfront that offer amazing food at better prices. But again, everything is super cheap (think $2 meals and $.50 beers)!
Overall, we found Cat Ba Island to be the perfect location for our tight budget and we still got to see everything you would on a similar tour in the popular Ha Long Bay. Make sure you check out this great destination if you are budget travelers like us, or just looking for a less touristy alternative to one of the most touristy locations in VietNam! Especially in the off-season when you'll be some of the only tourists there (like us)!
Be sure to leave us questions in the comments! We'd love to help you plan your trip to Cat Ba Island!
Like this post? PIN IT to share with others!